Vendana Home Spa by Bain Ultra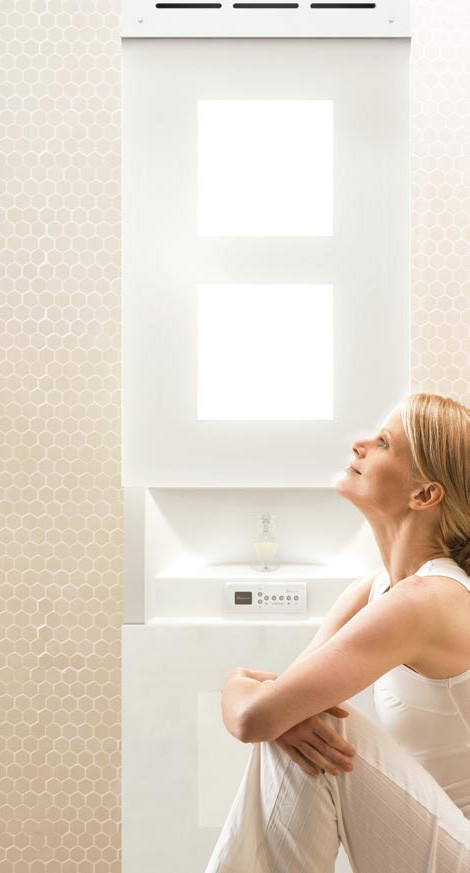 "Imagine a sensory experience that harmoniously blends 5 therapies. The sounds take you away. You breathe in tiny droplets of essential oils, savoring the aromas while warmth, light, and color make your experience even more transformative."
Vedana® invites you to rediscover your essential self in the comfort of your own home.
What could be better than having your own spa in your own home? The Vedana spa shower system from Bain Ultra makes it possible to enjoy five different therapies! Promoting sensations of mental and physical well-being, the Vedana offers terrific therapeutic benefits, with proven technologies like chromatherapy, sound and light therapy, aromatherapy, as well as BainUltra's high performance Thermotherapy systems! Hydro-thermo massage expertise combined with the Vedana system make for an experience like no other. You can experiment with the therapies, until you find the perfect combinations to sooth, refresh, relax or invigorate at any time. Coordinate the spa shower with your own style by choosing one of four different colors: White, Biscuit, Mexican Sand or Sandbar.
Choose an experience to fit your needs and state of mind. Vedana combines the effects of five integrated therapies—thermotherapy®, light therapy®, chromatherapy, sound therapy®, and aromatherapy—so that you derive maximum benefits from these four stations on your journey:
Clear your mind
Center yourself
Open up to wonder
Experience gratitude
These experiences were created to guide you toward a change of mood, a journey of the senses. Each of the stations on your voyage can be enjoyed on its own or combined with the others to go deeper into the experience. Every day is unique, so we made Vedana flexible to adapt to your needs. Because it's your journey.