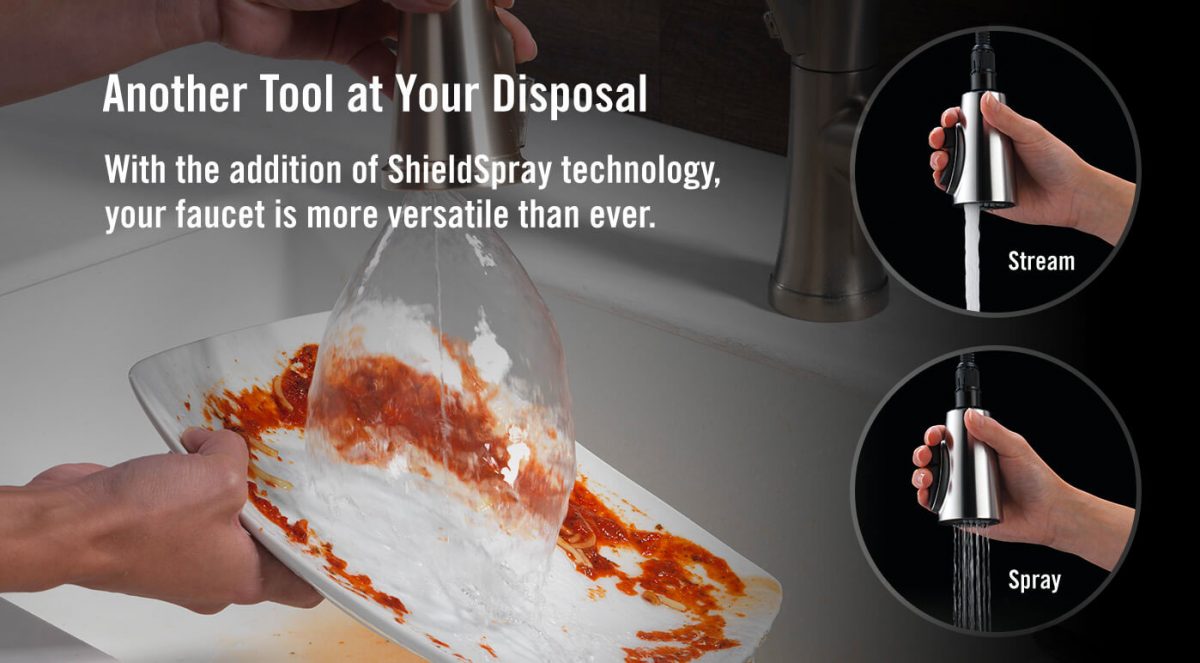 EASY CLEAN UP WITH SHIELDSPRAY®TECHNOLOGY BY DELTA
The Delta Faucet Company has been known for innovative designs such as Touch2O®, MagnaTite® Docking, H2Okinetic® and ShieldSpray® technologies that are made with the consumer in mind.
The ShieldSpray® technology is one of the unique features that Delta offers, making clean-ups less messy. The ShieldSpray® feature is available in a number of Delta kitchen pull-down faucets that are manual or have a touch design, assuring that there are different styles and finishes available that will suite any kitchen design. The ShieldSpray® technology manipulates the output of water into a curve, reducing the amount of water or residue that splashes, while still being able to effectively remove residue from dish surfaces.
If you are in the process of a kitchen renovation and currently have a Delta faucet, you can retrofit the new spray wand (that has ShieldSpray® technology) onto the older model that is in the same collection. To activate the ShieldSpray® feature, simply pull down the faucet, press and hold the top button on the spray wand to change the setting to spray, stream, and lastly to ShieldSpray®. Keep in mind that  ShieldSpray® only works when the spray wand is pulled down, and does not work when the faucet is docked.
Another note to keep in mind is that the ShieldSpray® feature will look different depending on the water pressure in a household. For optimum results, make sure your water pressure is above 35 psi.
Check Out the ShieldSpray® in action:
For more information on Delta Faucet Company products, or the ShieldSpray® technology contact or visit our showroom. Our Specialist are always happy to help!