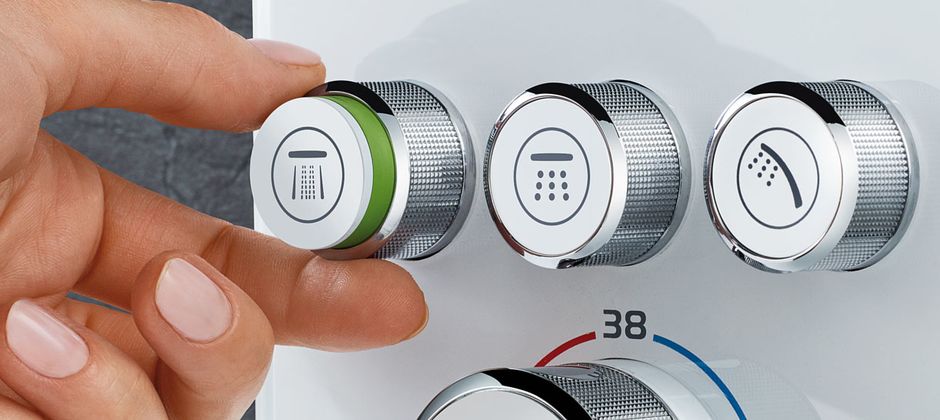 GROHE SMARTCONTROL – AN ENHANCED SHOWER EXPERIENCE
GROHE SMARTCONTROL – ENHANCE YOUR SHOWER EXPERIENCE 
A whole new shower experience. The GROHE SmartControl provides utmost customization, allowing you to control spray output, water volume, and allows you to store your preferred setting for the next use. There are three control adjustments, PureRain, Rain O2 Spray, and TrioMassage Spray. The GROHE SmartControl also allows you to use more than one spray type at once, and switch from shower head to hand shower in a push of a button.
The GROHE Smart Control comes in two finishes; classic chrome and moon white acrylic glass.
In addition, there are three versions that can accommodate a simple makeover or a complete bathroom renovation:
1) Smartcontrol Exposed:
The Smartcontrol Exposed combines a 360 shower head and shower rod. This is the easiest to install and is perfect for those that are looking to quickly upgrade the look and experience in their bathroom or en-suite.
2) Smartcontrol Combi:
The Smartcontrol Combi versions has no visible shower rod, and only exposes the rainshower 360 shower head and GROHE SmartControl. This is perfect for those that are making small bathroom renovations and don't want the rods to be visible.
3) SmartControl Concealed:
The SmartControl Concealed is installed behind the wall for a clean, minimalist look. This is perfect for those that are doing a complete renovation and want a seamless look for minimal space wastage.
For more information on the GROHE SmartControl, contact or visit our showroom. Our Plumbing Specialist are always happy to help!