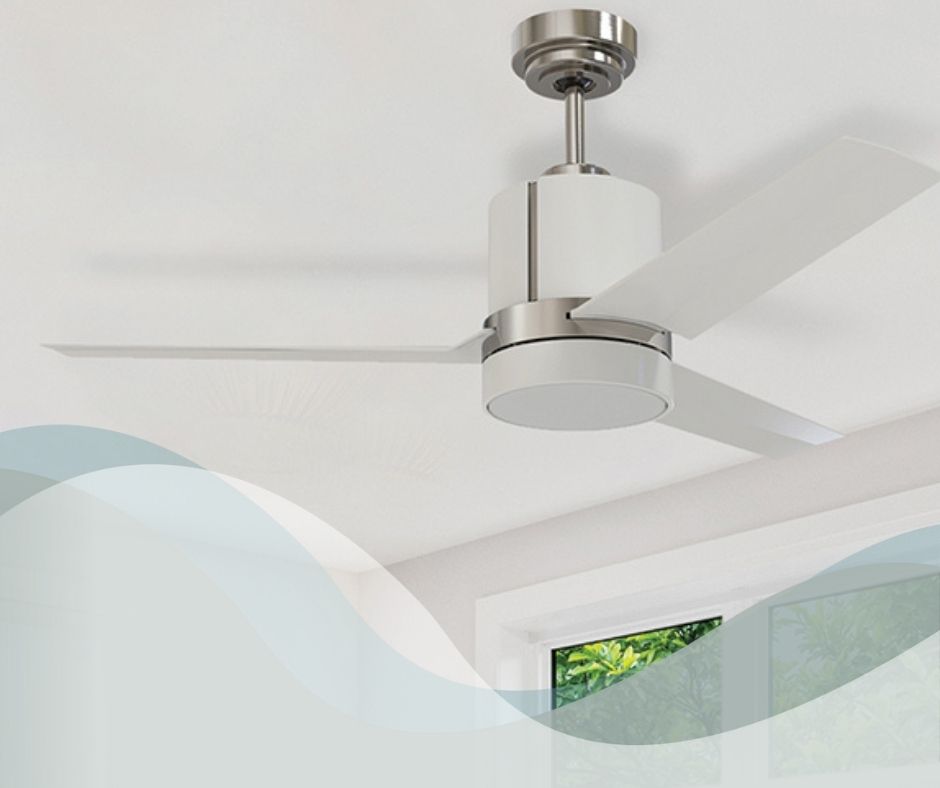 How Do I Choose A Ceiling Fan?
How Do I Choose A Ceiling Fan?
Choosing the right ceiling fan can be a daunting task, and can sometimes disappoint the end user when it does not meet up with expectations.
When selecting a ceiling fan consider the following criteria:
Size
To determine the size of a ceiling fan for a space, a good rule of thumb is to have a minimum of 18″ to 24″ of clearance on all sides of the ceiling fan. If the ceiling fan is too big, there might be too much air flow, and if the ceiling fan is too small, the air in the space might not circulate properly.
Hanging Height
Another criteria to consider is the hanging height. The building code will determine the hanging height of a ceiling fan. A ceiling fan should be at least 7 feet off the floor, while having 8 to 9 feet of space will allow for optimal circulation.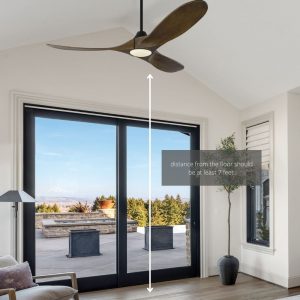 To meet building codes for lower ceilings, a hugger or flush mount ceiling fan might be more ideal.
Contrary, for average and/or high ceilings that are 9 feet or higher, it is recommended to use a downrod. Adding a downrod creates space between the fan blades and the ceiling for better air circulation. Downrods can also be as long as 72 inches in length, meaning homes with high ceilings can also have fan installations.
Air Flow
Airflow provides a measurement of the amount of air a ceiling fan delivers and is measured in cubic feet per minute (CFM).  This measurement is taken when the fan is on the highest speed, and is divided by the watts used.
Below is a chart that outlines what would be considered a good CFM rating:
| | |
| --- | --- |
| RATING | CFM |
| Good | 4000 to 5000 |
| Better | 5000 to 6000 |
| Best | over 6000 |
Blades
Another criteria to consider when selecting a ceiling is the angle (also know as pitch) of the blades. If the blades are flat, there will be less less air movement. The more angled the blades are, the more air movement.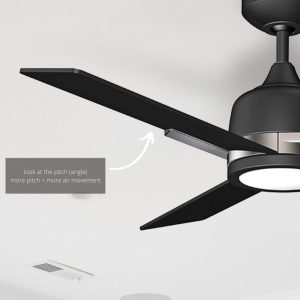 Some people think the number of blades is what determines the air flow, but that is not necessarily the case as ceiling fan design has modernized and improved over the years. The number of blades ultimately will depend on preference. Ceiling fans with only 2 or 3 blades often offer a more modern and sleek look, while ceiling fans with more blades provide a balanced look.
Material
Ceiling fans come in a variety of materials, which come with their own advantages and disadvantages. Some fans use less expensive materials such as Medium Density Fiberboard (MDF), which are great for those looking for an inexpensive ceiling fan that will perform well in indoor locations.
ABS plastic is more commonly used for ceiling fans, because it is also inexpensive but can be molded into different shapes for a more versatile look. In addition, ceiling fans made with ABS plastic can also have finishes that replicate the look of real wood. Unlike ceiling fans made with MDF, a ceiling fan made of ABS plastic is more durable and can be used in both indoor and outdoor spaces.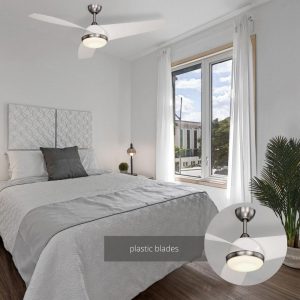 Motor
Lastly, consider the motor of the ceiling fan. Ceiling fans can be made with an AC or DC motor. Both types are available, but most customers prefer ceiling fans with DC motors.
The popularity of ceiling fans with DC motors might be due to the fact that they are known to be virtually silent, tend to be lighter, and more energy efficient. In addition, they do not take as long to start up, and there is a wider range of speed options.
To summarize, selecting a ceiling fan can be an overwhelming experience, but knowing what to look for can help narrow down the choices. For more tips on ceiling fans, feel free to contact us or visit our showroom. Our Specialist are always happy to help!