Springtime Is Landscape Lighting Time
Why Landscape Lighting From
Norburn?
When night falls, the details you've worked so hard to include in your residential landscape should truly come into focus. That is if they have the benefit of exterior lighting to illuminate them. Landscape lighting provides a
unique and aesthetically pleasing dynamic to any yard, garden, patio, walking path, or common area. Norburn is your source for the landscape lighting products to bring these spaces to life after the sun goes down, providing unmatched quality and an aesthetic effect while adding safety and usability.
What you need to know
Designing and installing a low voltage landscape lighting system looks easy… buy some lights, some wire, a transformer and hook them up.  Unfortunately this can be recipe for disappointment – you likely won't be happy with the final performance of the system.  In addition to diminished bulb life, a poorly planned installation will suffer the effects of the Pacific Northwest coastal climate resulting in fixtures and sockets corroding and the entire installation failing.  A well planned landscape lighting installation will work properly and last 15 or 20 years.
Start with a well designed System
The design of a landscape lighting system is part art and part science.  It's about understanding how much light is needed and determining what the focal points will be.  The choice of fixture, bulb wattage, beam spread, placement position and angle for each and every light source are a critical to the performance and success of the system.  The correct location of the transformers and wiring routes are vital to ensure every fixture has a bright white bulb that will last its rated life.
Use components that are built to last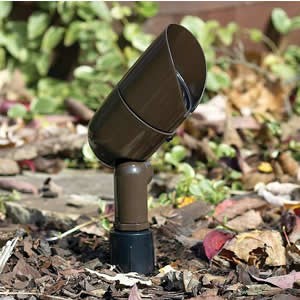 There is currently is a wide variety of landscape lighting components available to consumers.  The materials used and levels of quality vary considerably and the differences can significantly affect your systems long term operation and viability.  Be sure you choose components that are built to last, not those that are built to a price.
Construction materials

Landscape lighting fixtures today are made from a wide variety of materials including plastic, aluminum, copper, stainless steel or brass.  Plastic is used in the lowest cost multi-pack systems; aluminum is the most popular material today. Not all aluminum fixtures are created equally.  Lower cost fixtures are made from aluminum alloys that contain other metal to keep the cost of the material down.  This, however, makes it more difficult for the paint to stick to the surface of the fixture resulting in premature paint peeling and chipping, which then allows the soil to corrode the unprotected aluminum itself.  Better quality aluminum fixtures are made from higher quality marine-grade aluminum to eliminate the paint adhesion problem.  Many higher quality fixtures are made from natural copper, brass or stainless steel.  As with aluminum there is a wide range of quality to be found.
Paint
The paint on lower cost fixtures is simply sprayed onto the fixture and can easily be chipped or scratched.  Higher quality fixtures use an electrostatic powder-coating process which is then baked onto the fixture in an oven.  This process produces a significantly more durable finish that is practically chip and scratch proof.
Trapping water
When fixtures are pointed upwards to illuminate trees they are prone to water build-up on the lens.  It is therefore important to choose fixtures that do not allow any water to become trapped on the lens or leak though to the bulb and socket housing. Look for double gaskets on the fixture shroud.
Transformers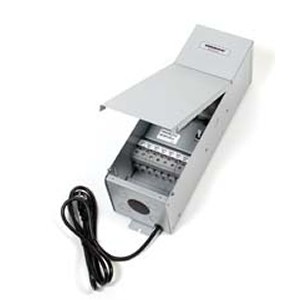 The transformer is the heart of a low voltage lighting system.  It converts the 120V house current into the safe low voltage to power the lighting fixtures. It is important is to use a multi-tap or multi-voltage transformer for your system.  This allows the designer and installer to ensure that each and every fixture gets the proper volts
needed for the long life of the system bulbs.  A lower cost single tap transformer (that only puts out 12V) will almost certainly not allow the correct working voltage for every fixture and the system will suffer early bulb
failure.
What about solar powered light fixtures?
While simple to install, solar powered light fixtures are typically seriously under powered.  The solar units typically output a fraction of the light that a low voltage lighting system will provide.  The durability of the solar units is also poor as the batteries soon wear out due to the constant charge and discharge cycle.  Also,
overcast days will not allow the batteries to charge enough to power the units for the night.
A Low Voltage Lighting System from Norburn offers the greatest versatility with hundreds of  fixture combination's for every landscape lighting application. For over 40 years Norburn has provided the broadest selection of quality products and superior service to help navigate the choices to ensure you get what you need. When you shop at Norburn you can rest assured it will be done right.
Read More Here
http://norburnlightingandbath.com//norstaging/landscape-lighting-tips
[cincopa AYEAphqhJyz8]