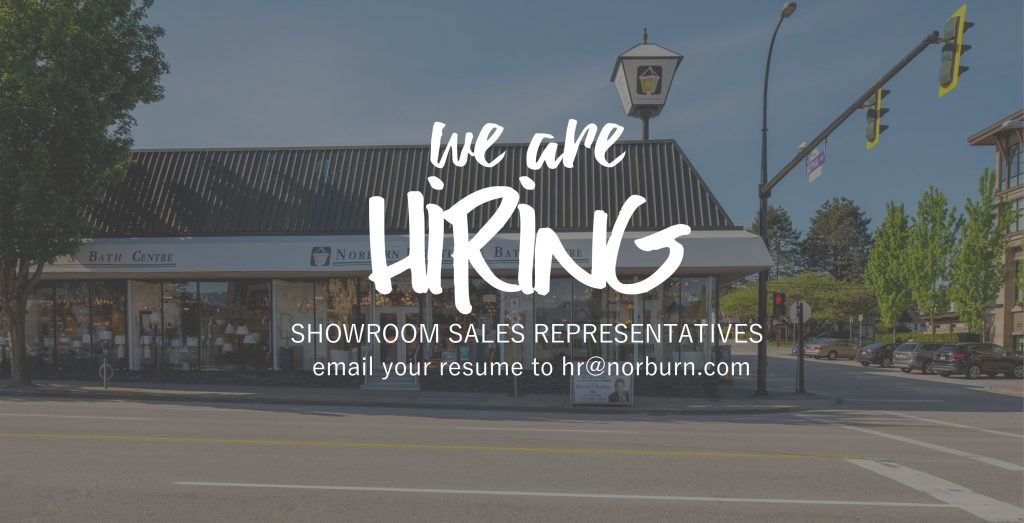 NOW HIRING – Showroom Sales Representatives
Norburn Lighting & Bath Centre is a leading retailer of lighting and plumbing products in BC. We are a family-owned company known for having a friendly and customer service oriented culture. Our employees experience the excitement and satisfaction that comes from working for a successful company where every employee makes a difference.
The sales environment in our spectacular lighting and plumbing Burnaby showroom is low pressure and our sales representatives are encouraged to spend time with customers and to develop a close relationship with contractors and builders.Working Saturdays with an alternate day off is required.
The general duties include:
assist homeowners, interior designers and builders with their lighting or plumbing needs
provide excellent product information
present options from a wide range of high-end products
prepare quotes for contractors and homeowners
expedite and follow up on orders
respond to phone inquiries
assist with showroom presentation
If you possess some sales experience, we are interested in talking to you about joining our team in Burnaby.
We value:
outstanding interpersonal skills
a strong sales presence
creativity and interest in design
attention to detail
some computer skills
Our employees enjoy excellent health, dental and pension benefits in addition to a competitive base salary plus incentive compensation.
We are confident that if you choose to work at Norburn Lighting & Bath Centre, you will be taking your first step towards a challenging, profitable, and satisfying career.
Job Type:
Full-time
Required education:
High school or equivalent
Required experience:
Sales: 1 year
If you are interest in this position, submit your resume to: hr(at)norburn.com
Deadline: February 15, 2018
While we thank all candidates for their interest, only those selected for an interview will be contacted.