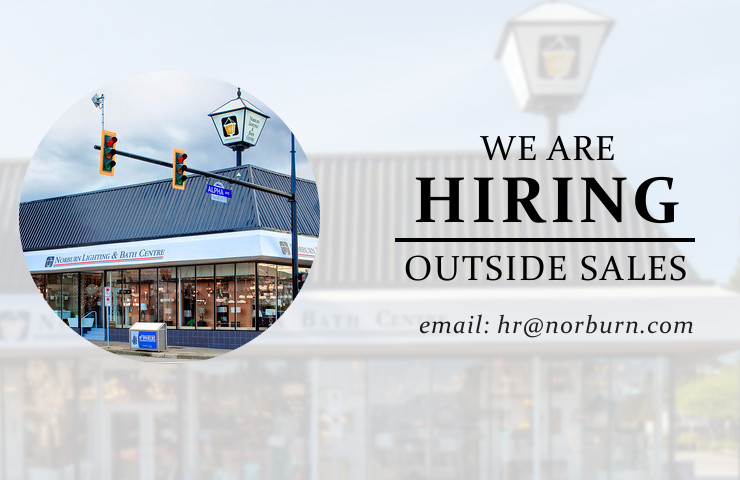 WE ARE HIRING: OUTSIDE SALES
Norburn Lighting & Bath Centre is a leading retailer of lighting and plumbing products in BC. Our success is due in large part to the entrepreneurial spirit of the owners combined with a strong tradition of outstanding customer service. Our employees experience the excitement and satisfaction that comes from working for a successful company where every employee makes a difference and where initiative and hard work are valued and rewarded.
If you have excellent sales skills and interested in joining the world of lighting and plumbing, an opportunity is waiting for you! The ideal candidate for our spectacular showroom should be motivated, confident, detail oriented and a self starter. We need someone who has a strong work ethic and is customer service oriented.
The successful candidate will develop new business and work with existing customers. They will prepare and conduct sales presentations, prepare quotations and negotiate sales. Emphasis will be on candidates that have an existing client base.
The candidate must possess superior customer service skills, a strong sales presence, good presentation skills and be comfortable with computers. Experience in reading blue prints, coordinating projects and lighting product knowledge is a requirement.
Our sales employees enjoy excellent health, dental and pension benefits in addition to a competitive base plus incentive compensation plan. We are confident that if you choose to work at Norburn Lighting & Bath, you will be taking your first steps towards a challenging, profitable and satisfying career.
While we thank all candidates for their interest, only those selected for an interview will be contacted.
Submit your resume to: hr(at)norburn.com
Deadline to submit resume: November 30, 2018