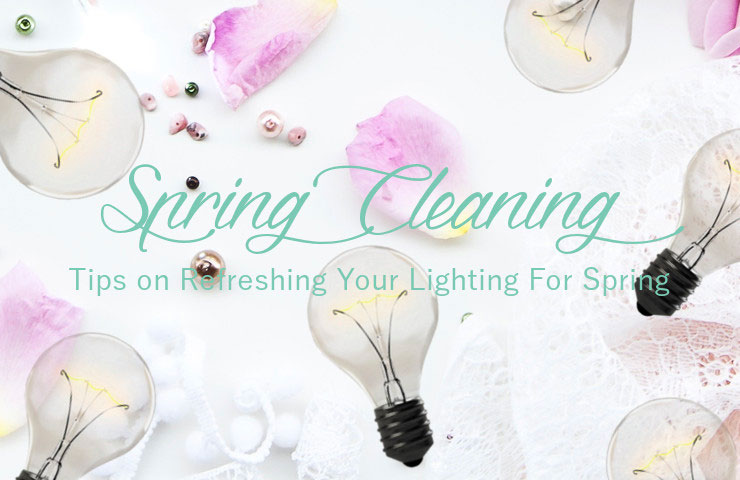 SPRING CLEANING | Tips on Refreshing Your Lighting for Spring
The beginning of a new season often evokes a time of deep cleansing, whether it be ones wardrobe, eating habits, or home. The transition into a new season releases a sense of enthusiasm and a desire to have all things look brand new or refreshed.
Here are some great spring cleaning tips to keep your lighting looking fresh:
1) Getting Started
Remember to turn the light source off, and allow for bulbs to cool down before beginning your cleaning. In addition, be mindful of the type and finish of the fixture, as different fixtures (and finishes) will require different methods of cleaning for the most effective results. For complex re-assembly of certain fixtures, such as crystal chandeliers, be sure to take pictures or keep note of how to re-assemble the fixture once cleaning has been completed.
2) Use a Stove Top Cleaner to Combat Fog & Grease on Glass Pendants
Glass pendants that are in kitchens will often begin to appear foggy or greasy over time due to build up from moisture, and everyday traffic and use of the space. Our representative from Tech Lighting (Nuvo Sales) suggested using Wieman Cooktop Glass Cleaner to keep glass looking spotless and new.
However, it is important to be mindful of the type of glass when using this method. For instance, a microfiber cloth might be a better option for glass with paint details to avoid damaging the design.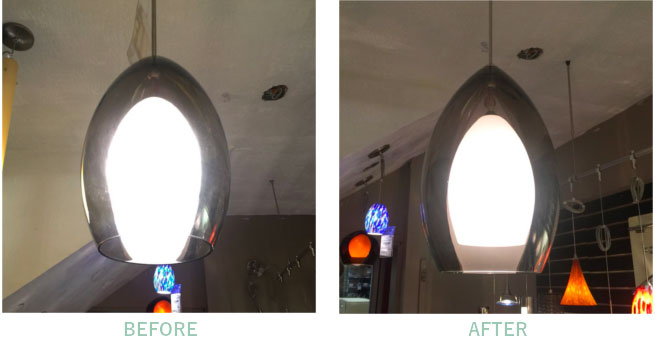 3) Use a Compressed Air Duster
When removing surface level dust, a compress air duster can be used. This is ideal for surfaces with hard to reach areas such as small ridges on an antiquated wood surface. It is also ideal when preventing cloth fibers from clinging onto small grooves and details.
4) Use Mild and Non-Abrasive Material
It is important to keep in mind the type of chemicals and materials in your cleaning solutions. Aim for cleaning solutions that are mild and non-abrasive, and use soft cloth to prevent scratches. For Metal surfaces, Progress Lighting recommends using non-abrasive liquid wax to provide extra protection. In addition, they suggest avoiding cleaning materials with ammonia or alcohol, and any all purpose cleaners altogether, as they often have chemicals than can be damaging to the coating.
5) Use a Microfiber Cloth
A dry microfiber cloths can be used to remove dust from a variety of surfaces, from acrylic, plastic, metal, wood, glass, fluorescent fixtures as well as recessed lighting. When dampen with water and/or a bit of mild soap, a microfiber cloth can help remove smudges or imprints.
6) Don't forget the bulbs!
Before re-assembling your fixture, remember to clean or replace your bulbs as well. Bulbs that are covered with dust are not going to provide the desired output of light and can also reduce the lifespan of the bulb. Remove dust from bulbs using a dry microfiber cloth. For hard to reach bulbs in high ceilings, tools such as the Satco Bulb Changer can be used when changing out A19 bulbs. For bulbs that look dim or have completely burnt out, switch them out with a fresh new bulb.
Remember to create a habit of cleaning your fixtures (and bulbs) to expand their lifespan, and for a brighter welcoming home. For more helpful tips and advice, contact or visit our showrooms. Our Specialist are always happy to help you!