Smart Home Starter Pack from Dals
New Dals Smart Home Starter Pack
Fascinated by the rise in smart home technology but unsure how to get started?
The Dals Starter Pack includes some essential items that can be applied in a variety of spaces inside a home. The pack includes two smart bulbs, two smart plugs, one dimmer switch, and one 3 meter tape-kit.
Dals Smart Bulbs
The Dals smart bulb is an easy and simple way to transition into a smart home. You can use these bulbs in any fixture that currently uses a 60W A19 bulb. These bulbs can be controlled through the Dals Connect app, where you can set up schedules and change colours.
Note: It is recommended that the smart lights are not used with a dimmer switch or a timer.

Dals Smart Plugs
The Dals Smart Plug is another product that is easy to install. The smart plugs have a slender design that allow them to fit on the same outlet. Simply plug the smart plugs into an outlet, and anything that is plugged in can be remotely controlled. This product can work with plug-in lights such as lamps, and small appliances such as a toaster, a portable fan, a coffee machine and so forth.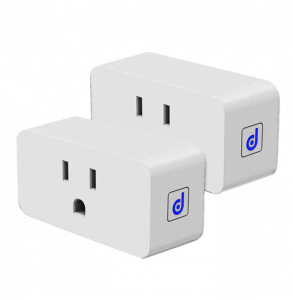 Dals Smart Tape-Kit
The Dals Smart Tape-Kit is another great product included in this package. The tape-kit is 3meters long and can be applied under kitchen cabinets, around televisions or gaming consoles, and just about any space you are looking to add a bit of decorative lighting. You simply connect the required length and plug into an outlet.  The tape light can be controlled using the wireless remote control or through the Dals Connect app, where you can dim the lights, change colours, or set schedules.

Dals Smart Dimmer
The Dals Smart Dimmer is the final product in this kit that requires some level of installation knowledge. If you are unsure how to replace and/or install a dimmer switch, we strongly advise contacting a professional. This smart dimmer has a sleek design that allows you to control the light output by sliding your finger on the panel. The dimmer allows you to create groups, adjust dimming, and set schedules through the Dals Connect app.
If you are interested to know more about the Dals Smart Home Starter Pack, please do not hesitate to contact us!
You can reach us by calling 604-299-0666 or email us at [email protected]