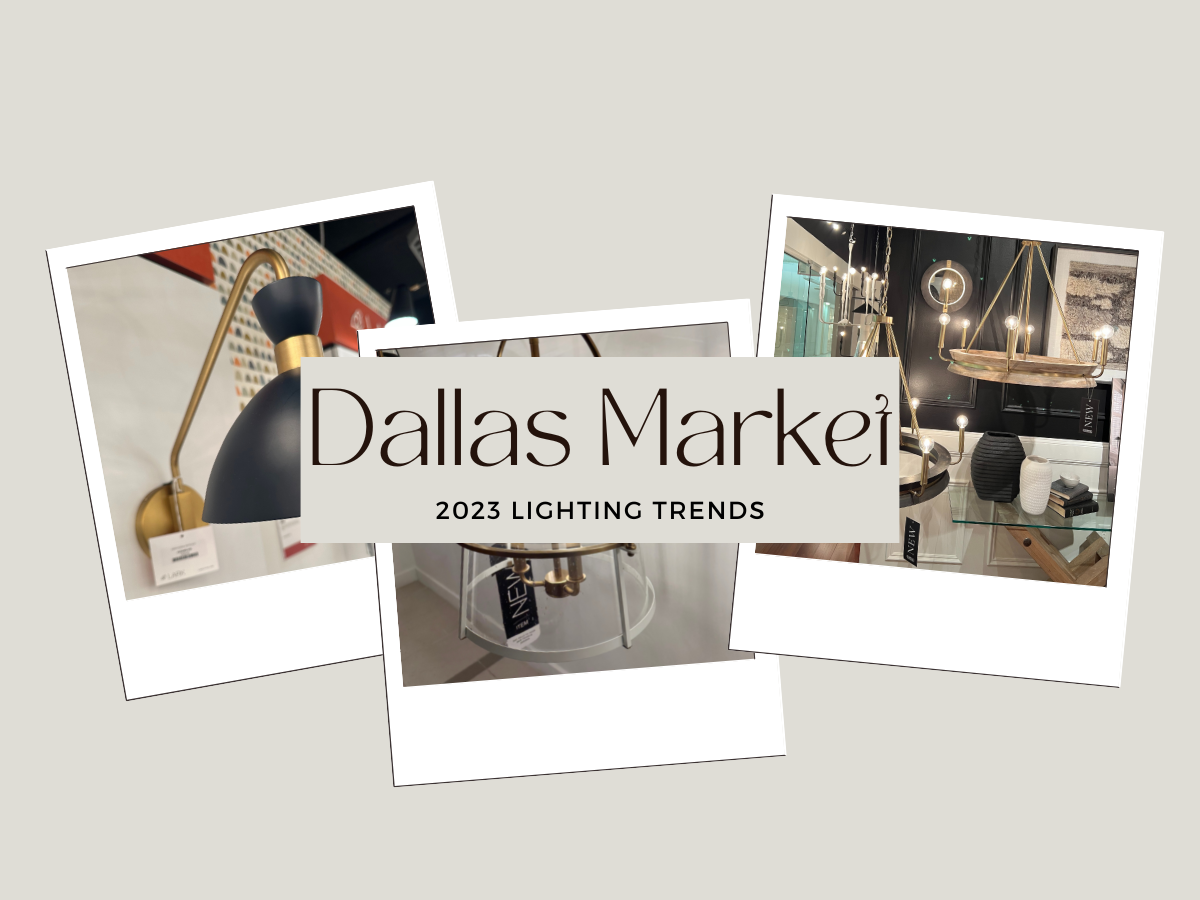 2023 Lighting Trends | Dallas Market Recap
2023 Lighting Trends – Dallas Market Recap
January Dallas Market is what we anticipate every year, which gives our team the opportunity to see, touch, and experience new lighting designs in person. In addition, being present at market also gives us an idea of what designs continue to be popular, as well as any emerging lighting trends.
Here are 5 top lighting trends we noticed at market:
 All Natural

The 'All Natural" look continues this year but with a bigger emphasis! We spotted a variety of lighting designs made with natural material such as rope, rattan, and wood. These materials are often associated with bohemian and coastal aesthetic, but are more sought after due to the growing popularity of the modern organic style, which combines minimalism and natural elements. The natural lighting designs are also neutral in colour and the natural elements give it a sense of a relaxed feel.

Mango Wood Pendant- Capital Lighting

Hand-Knotted Jute Lighting – Progress Lighting

Soft Gold


Golf finishes also continue to be popular this year. Notably, we are seeing more soft gold finishes, which are relatively more muted, making it easier to incorporate in different spaces.

Modern Gold Finish – Crystorama

White Finishes

With white appliances making a comeback in kitchen designs, we are seeing a lot more lighting designs with a white finish as well. This look offers a very clean and minimal aesthetic.

White and Brass Finish – Hinkley Lighting

Navy Is The New Black?

We spotted a lot of navy/blue accents in various showrooms, which might just be the pop of colour needed in a space. Steering away from the popular matte black finish, navy blue offers an unexpected subtle pop of colour while still having the versatility and depth similar to a black finish.

Navy and Brass – Lark Lighting

Oversize Pendants
Oversize pendants were also very popular at market, which are perfect for spaces that have a large area to fill. We spotted pendants that were 4 to 5 feet tall!
To demonstrate, take a look at this massive pendant from Eurofase!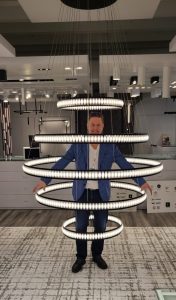 It is always interesting to see the new lighting designs at market. We are excited to start narrowing down our choices, as we prepare to bring some new products into the showroom in the coming months! Let us know what trend is your favourite, or if there are other trends you prefer.
Feel free to contact us for any lighting inquiries you may have, our team is always happy to help!